Spotlights and Hidden Dragons
Another Sunday, another exploration day! To the north of Banzai Cliff lies an overgrown dirt path that quickly becomes rocky terrain. Bounding from limestone to pointy limestone rock, we made our way through the tundra to the a nice little outcrop for — what else? — photo op!
And then, in the crisping sun, we continue on to what sounds like the world's largest flushing toilet: Spotlight Cave!
Thankfully, it did not smell like a toilet!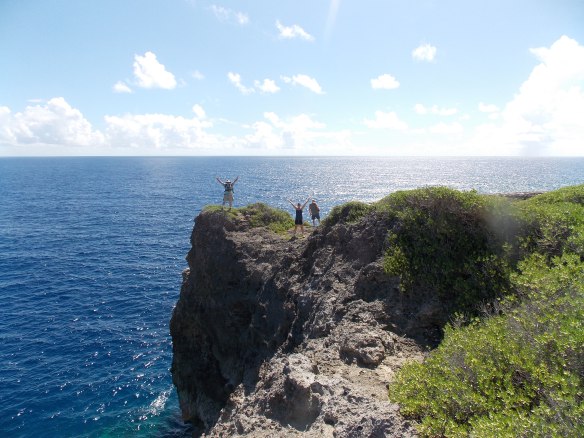 Apparently this is an amazing place to scuba dive — especially around noon. The sunlight will stream down this opening to the waters below, creating an ethereal glow, with the rippling waters sparkling all around in a magical dance with the diver.
Sadly, I am not (yet!) a diver, so we did not get to see this first hand. But Mark is, and he has some pictures from a previous dive, which you can see here! Maybe one day, I will be able to share my own photos of this experience.
For now, Patrick and I had to be content with some squeezing…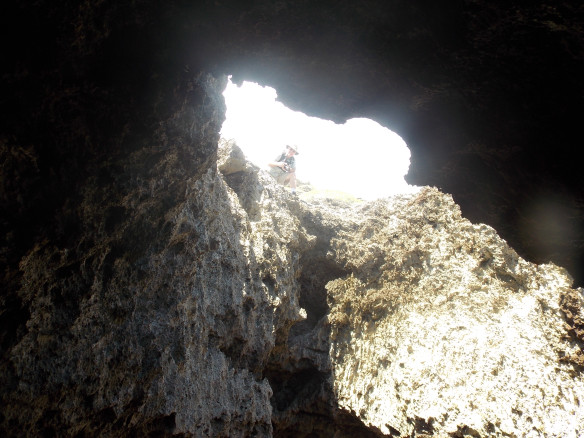 Down he goes! Through a little side tunnel, and I follow till we pop out near the water. And see Mark still above. Patrick and I enjoy the cool shade of the crevice, then decide it's time to head back — we have a (pseudo) cave at Hidden Beach to go explore! We hop in the car, drive to the the trailhead, and hike on down to the beach. Saying "ni hao" to a few tourists as we pass, we go off the beaten path once again and find the rocky tunnels to the north of the beach.
The rushing water outside the cave causes a reverberating growl to sound from some opening that we cannot find. It is an odd combination of dragon growl, and hissing air. But I love the spot. If I ever disappear, I've probably gone here: cool cave with sunlight streaming in, the beautiful sound of water lapping and waves crashing, and people watching!! Unbeknownst to them, Mark and I sit at this opening, looking out at the charming tourist who have no idea we are watching their show…
We hear their laughter and screams of delight as they wade out to a flat rock surface in the water, and get doused with walls of water that slam against the side of the rocks.
After enjoying the views for a while, we go wading as well, take our own touristy pictures, then call it a sun-burnt day.